Maple Manor's Swimming & Diving team has offered fun summer training and competition to member families since 1962. Girls and boys ages 5-18 compete as one team in the Colonial Swim League in dual meets vs. six other area swim club teams. Maple Manor has been a force in this age-group summer league, with a league championship streak stretching from 1999 through 2018 and taking the title home again in 2021 and 2022. In addition to training and meets, the team has a lot of fun social activities for the kids throughout the season.
Athletes can start at a young age as part of the "pre-team" with most continuing to participate through high school, and many going on in their swim & dive careers to compete in high school plus at the regional, state, collegiate, national and international level. Maple Manor has one Olympian alumnus (Rob Cragg, diving; Montreal 1976), with several swim & dive athletes/alumni competing at the US Olympic Trials (three in 2020!) and representing the United States (and Maple Manor) in international competition.
Coaching Staff
Maple Manor's coaching staff emphasizes to all swimmers the importance of proper technique, teamwork, sportsmanship, learning and most importantly – HAVING FUN!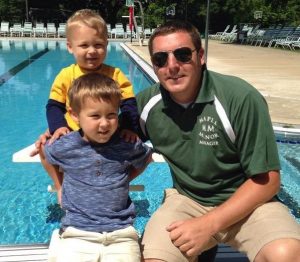 Brandon Pierce
Head Coach
(513) 312-2941
| | | |
| --- | --- | --- |
| |   | |
| Melissa Pierce |   | Joseph Gewartowski |
| Swim Coach |   | Swim Coach |
                                                                              Sam Evangelista 
                                                                                  Swim Coach 
 Coach Sam began her swimming career at the age of 6 as a member of the Hatboro Horsham Aquatic Association, where she was coached by our very own Melissa Pierce.  Sam  swam at Central Bucks South and ended her swimming career at Gettysburg College.  Sam has years of coaching experience including summers at the Philadelphia Sports Club in the Lower Bucks County Swim League and she currently coaches SAL and USA swimming at HHAA.
Michael Burke
Dive Coach
Michael Burke is starting his first year
coaching at Maple Manor.  Michael has
11 years of diving experience and 3 years
 of coaching experience, and currently holds
the 11 dive record for Upper Dublin HS, along
   with multiple diving records for Maple Manor. 
Team Sponsor
Team Resources
Maple Manor Swim Team Handbook
Questions? email  swimteam@maplemanorswimclub.org or call Lisa Curcio 610-322-3226 or Christie Kenney 267-342-4141
Maple Manor Swim and Dive Team Records:
Maple Manor does not offer any special "Swim Team" memberships, keeping in-line with the Colonial Swim League charter and regulations, plus as the mission of the club is to provide a fantastic summer experience for all member families.
Maple Manor 2022 Swim and Dive Schedule  (For the most up to date list of social events or meet changes due to weather, please see the Team Snap schedule)
Home Meet Schedule:
Date:
Visiting Team
Score
 
Home Team
Score
 
June 27
C.J. Martin Relay Carnival at Manorlu
 
June 30
Maple Manor
598 
at
Upper Moreland
303 
Results 
July 7
Maple Manor
 621
at
Maplewood
 246
Results 
July 9
Manorlu
 141
at
Maple Manor
714 
Results
July 12 
Hideaway
 367
at
Maple Manor
545 
Results 
July 15 
Maple Manor
 581
at
Sunny Willow
335 
Results 
July 19 
Fort Washington
408 
at
Maple Manor
519 
Results 
July 27
B Champs at Hideaway
 
July 29
Dive Champs at T.B.D.
 
July 30
A Champs at Manorlu
 
2022 Colonial Swim League Champions (6-0)